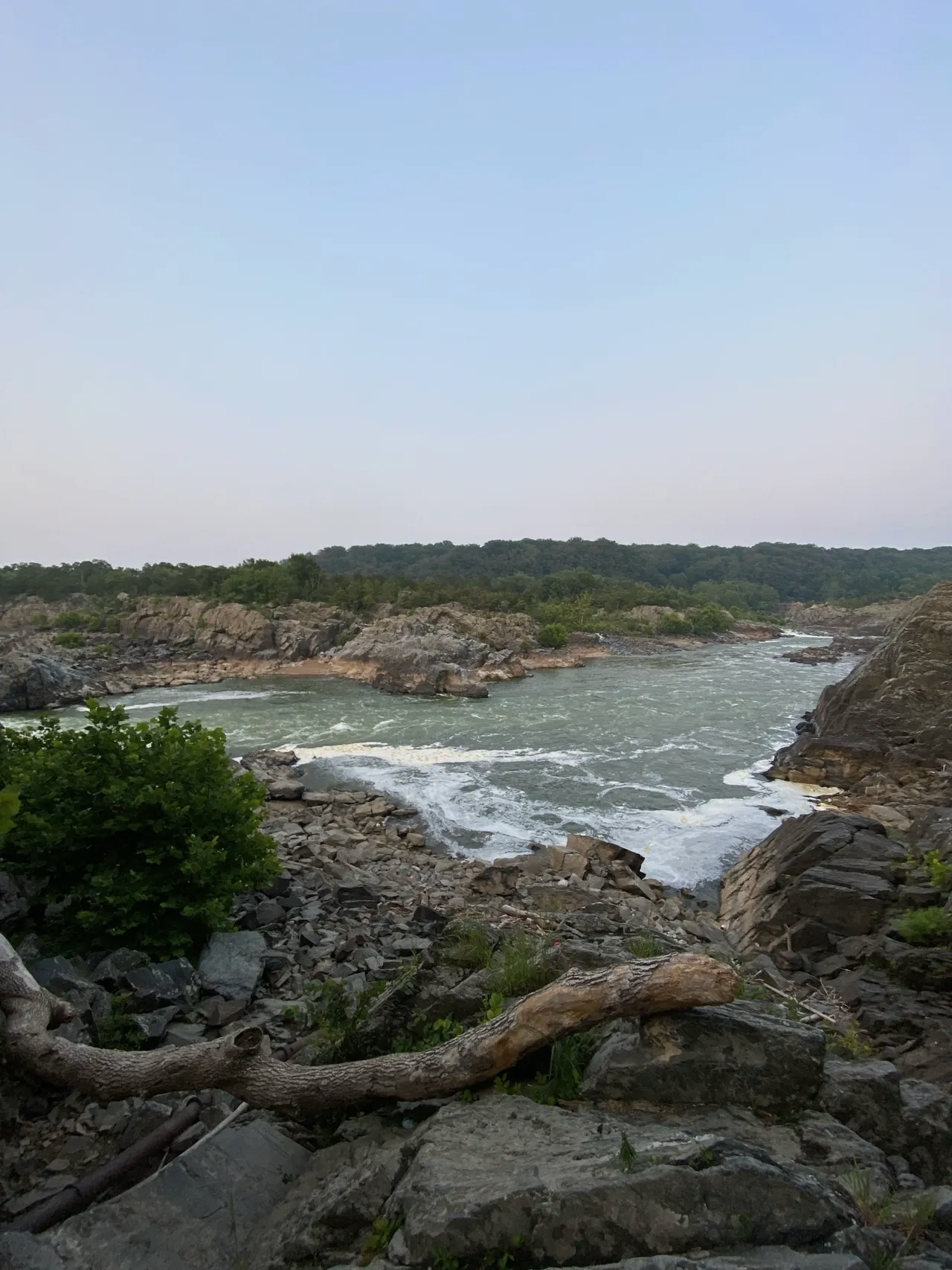 🚧
Many times during my hike and my deep connection with nature, I allow my inner child to run free. I feel energetic, excited, powerful, and just full of life. Man, that is a magical moment. However, I have to remember my own rules about safety. Sometimes that means restraining myself and making sure I am wearing proper hiking gear to have a safe hike. While driving home, listening to the radio, the host stated someone died during their hike. I took a deep breath and said a small prayer. 
The next day while skimming through a few news alerts on my iPhone, I read three different articles of people found dead hiking. My heart dropped as I continued to read. An endurance athlete, a young woman, and an older man were all found dead during a hike a few days ago. Not to mention the man that fell to his death while hiking with a nine-year-old boy, and the boy had to hike back down the mountain alone. Lastly, a man fell to his death in Linville Gorge mountains in NC in June 2021. My heart and prayers go out to everyone that was affected by the loss of their loved ones.
I am not writing this message to discourage you from hiking or spending time in nature. This message is only to encourage you to be safe and a reminder to practice proper safety.
I return to Great Falls the other day, excited to hit the trail. I did not give much thought to the gear I was wearing. My gear consists of a tank top, bright leggings, and a pair of cute sneakers. I label the sneakers as cute because they are literally just for being cute or walking around. Those sneakers were definitely not for hiking, rock climbing, or anything that requires traction and support. I jumped out of the car and started skipping through the parking lot, excited to explore a new trail. When I was last at Great Falls, I sat for hours with the biggest waterfall, listening and connecting to energy from the water cascading over large rocks. I took pictures, prayed, and released my stress. Before I knew it, it was time to head to the airport to catch my flight home. Although I was in love with that moment, I wanted to do something a little different this visit. 
I wanted to get lost in walking, exploring, and capture different viewpoints. I arrived at a trail that revealed a breathtaking view of unique rock layers and the river. My pace increased as I needed a closer look. Nature's beauty was everywhere! The view of trees. Some standing tall, roots exposed, and some stretch across the rocks, forming a path to cross or a beautiful photo for photographers or alike. Layers of boulders surrounded this area—some leading to the sky tapping the clouds, while others layered the ground like a beautiful maze. The water was racing to the river's right, skipping over rocks, causing a splashing and serene sound. My friend sat in awe, taking in the magical moment. My inner child kicked in, and I wanted to skip rocks and put my body in the water. The sign clearly said no swimming, but it did not say, do get your feet wet.
  **** Always obey the rules posted****
The water was moving rapidly while foam was skating wildly across the top of the Potomac River. I watched full of excitement, ready to run, skip, pick up rocks and have the time of my life. My friend said, you are Nature's Girl, but you do not have your hiking boots. Please be careful. I respond, " I'll be fine, come with me".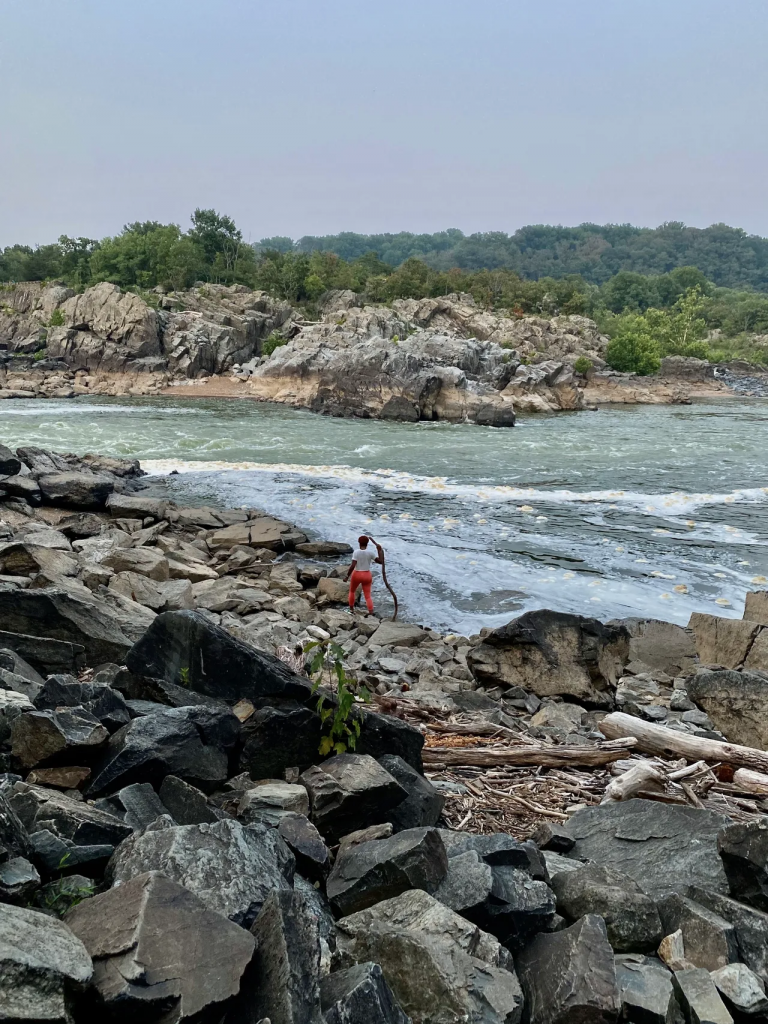 Long story short, the rocks were phenomenal, and the water released a burst of energy that lit up my soul. But those sneakers I wore caused me to fall several times. A slip here and there is all it takes to either get seriously hurt or cause anyone to fall to their death. There was a time when I was enjoying the water and slipped pretty hard. My friend stopped recording the video because they thought I got hurt and needed help. At the time, I felt I was having fun, and nothing would happen to me. But after reading the articles of the people who lost their lives, I realized I was careless and reckless. I was careless and reckless because I approached those rocks and water without hiking boots and trekking poles for an extra layer of safety.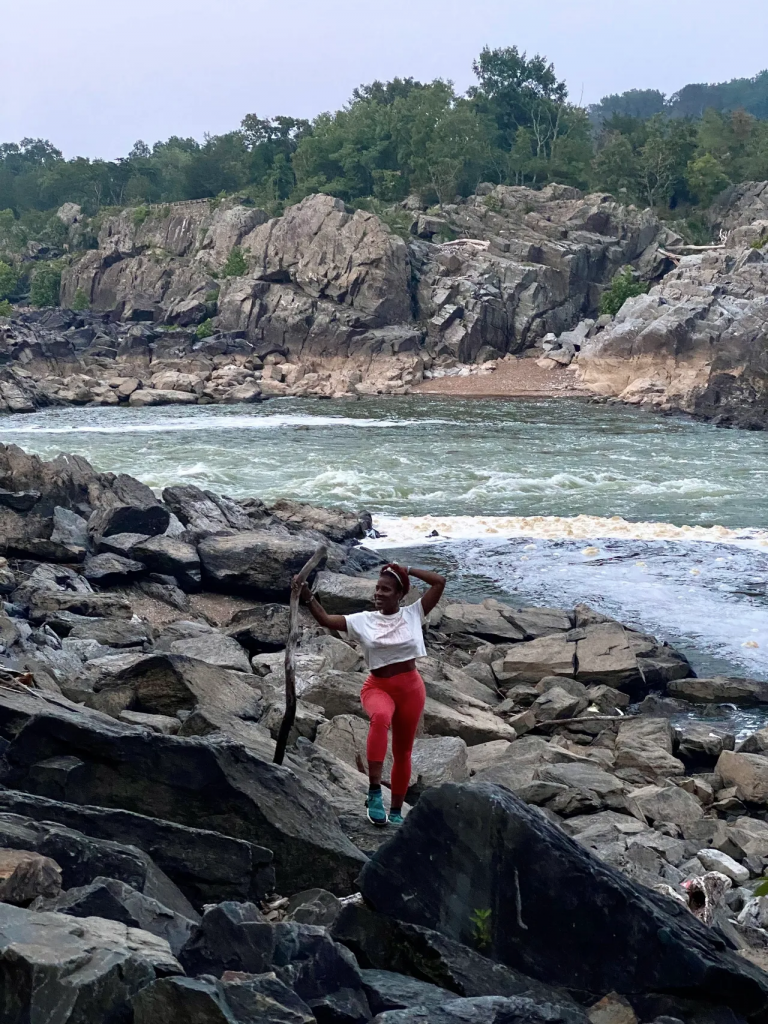 I do understand that you can still slip and fall wearing hiking boots. But, the reality is the hiking boots provide support and grip that sneakers cannot.
Nature Lovers. Please wear hiking boots when hiking, walking a long-distance with incline, and challenging terrain.
*Pack your trekking poles so you can use them as needed.
*Travel with water. Preferably in a backpack or vest jacket. It will keep your hands free for balance.
*Carry a Walkie Talkie or Satellite Phone. It may increase the chances of quickly contacting authority in case of emergency.
*Check the weather for the location you are hiking (twice).
*Always let someone know where you are going if you hike alone or with a small child. Alert them of a real-time you may return from your hike if they need to send someone to look for you.
Now this message is not saying that the people who lost their lives done something wrong. This message is only to inform you that sometimes I also get off track. I want to encourage you to provide that extra layer of safety and enjoy nature as much as you can.
My prayers go out to the families who lost their loved ones. My gratitude goes to the universe for protecting me when I was hardheaded.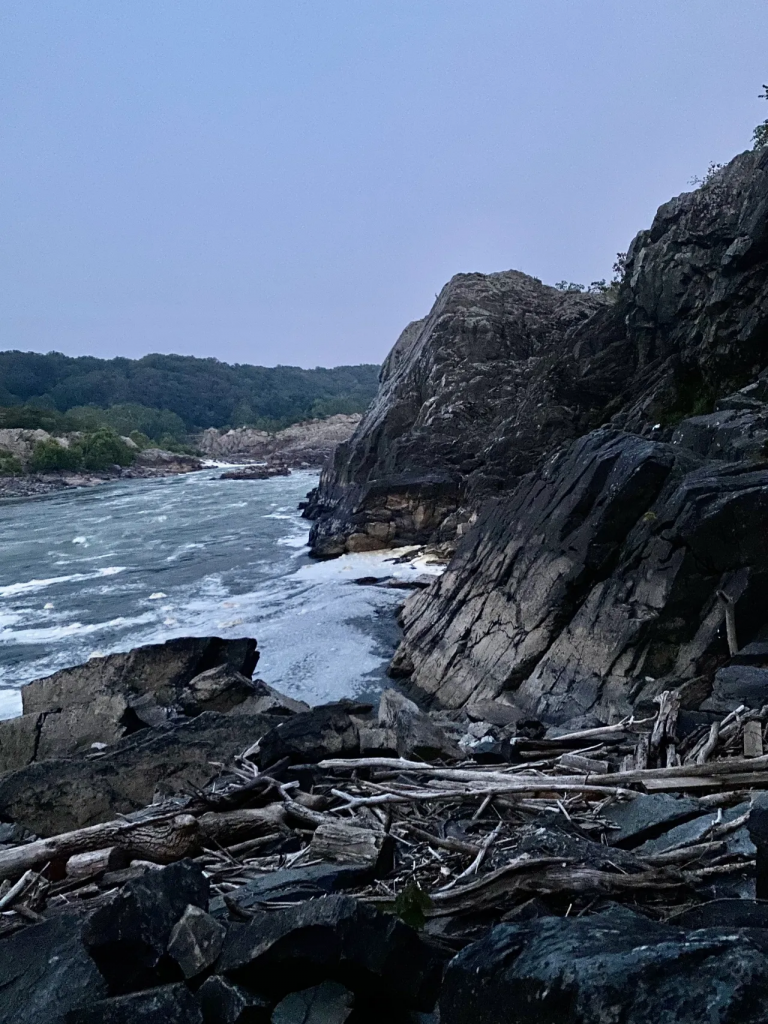 Peace and blessings.
Nature's Girl, a.k.a Charlene Bell
Lazy In Nature