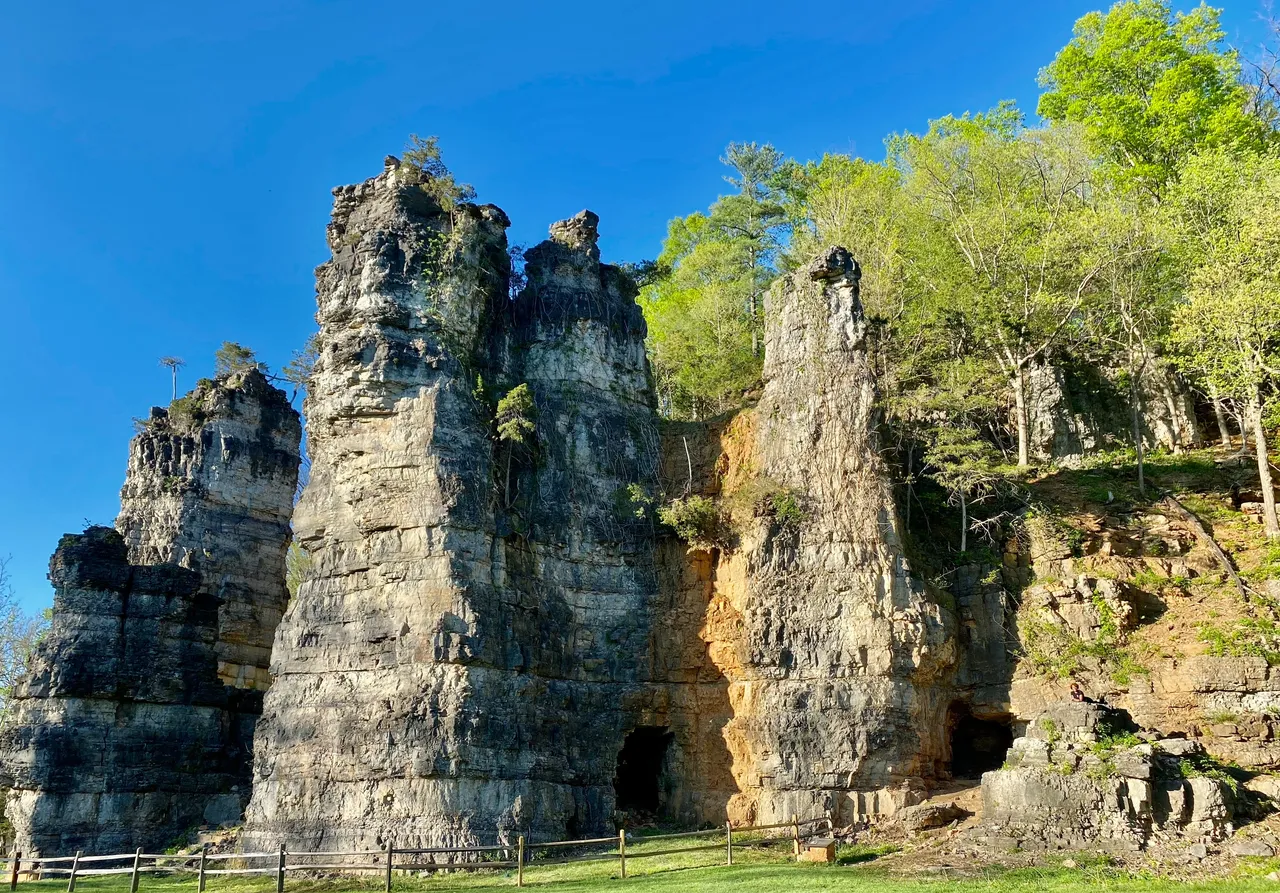 The day started with a shopping spree to the Dollar Store. Man, I was balling! My green hand basket carried Sweet Tarts, Lemon Heads, two bags filled with mini boxes of Nerds candy, and a pack of Starburst. I could not forget the chocolate, so I grabbed a few bags of mini Sneaker bars, Heresy Kisses, and a Twix. I don't even like Twix! I think I put it in the basket because 1. It felt fun to pick up so much candy without the voice of judgment. 2. Everything was a dollar! 
After I become more hyper from popping Sweet Tarts, I decided to plug the address to Natural Chimneys Park into the GPS. to see how far a drive it was. It was an hour and fifty minutes from Roanoke, VA. Done!! I put on some music to rock out to, and that made the drive pretty easy.
Once I arrived, I was in awe.  I did not expect the towers to look so tall. You have to see it to appreciate the majestic splendor of the rock towers because my pictures cannot share the vibrations I felt onsite. The area had acres of well-manicured green grass, a medium campsite, and a few hiking and walking trails. I felt like a happy kid ready to run barefoot across the plush grass. I also wanted to hike and touch every rock in sight, so I had to decide to wear my boots from the car. I spent a few hours exploring, sitting, and journaling in my hiking journal. 
Lastly, I had the opportunity to watch the sunset. This moment was magical. As I gazed at the sky from the near top of the towers, it felt like one-on-one time with God, the Universe. I closed my eyes occasionally just to whisper the words, thank you. This place is a gem. It does not require a lot of hiking to enjoy some much-needed time in nature. "The spectacular view is a bonus".
Fun fact.
The seven Natural Chimney towers stand about 120 feet above the pastoral terrain of the Shenandoah Valley. Centuries ago, as the sea receded, the forces of nature carefully etched out a magnificent formation of solid rock. This impressive work of nature attracts people from all over to explore the breathtaking views and embrace the journey.
Nature is a badass!!
Hugs,
Nature's Girl, aka Charlene Bell
Location: 94 Natural Chimneys Ln, Mt. Solon, VA 22843